Welcome to the Lajes High School Alumni Homepage!
---
The Lajes High School Alumni (LHSA) homepage is intended for anyone and everyone ever associated with the school. Our goals are to rekindle and maintain friendships, spark memories and serve as an informational source for reunions. This website is independently managed by alumni and is in no way associated with the high school.
---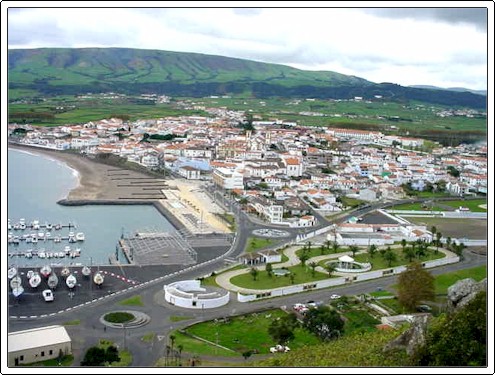 Praia da Vitória
(Photo Credit: Julienne Simon-Sorrell, 2005)
---
Click on the links below to explore our site!
| | |
| --- | --- |
| | Registrants sorted by name, class or location. |
| | Get the name of your class contact and visit individual websites. |
| | Are you able to recall your class motto, colors, flower, song or advisor? |
| | Looking for former classmates? List their names here or see if you can help locate someone. Perhaps someone is looking for you! |
| | Links to yearbook, reunion and island photographs. |
| | Submit your name and contact information. |
| | Visit other web sites with related interests. |
| | Get information regarding the next LHSA reunions. |
---

This website has been lovingly dedicated to the memory of Sue Needham, Bob Hiemstra, Bill May, Jared Kennedy, Ponnie Hartzell and the many that have preceeded us.
---
Please review the LHSA Legal Statement.
Submit questions and comments to webmaster@lajeshs.com.

This DODDS World site is owned by LHSA.
[ Previous | Next | Previous 5 Sites | Next 5 Sites | Random Site | List Sites ]